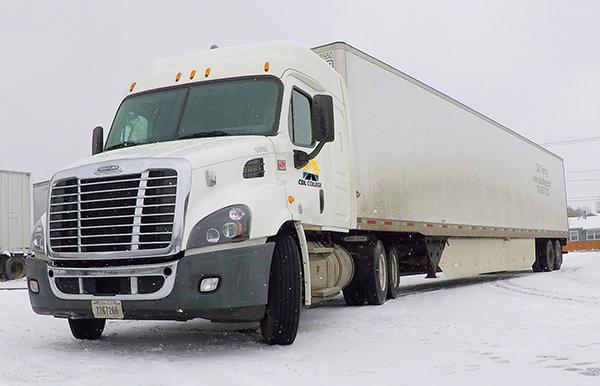 The first step is to pick the program that is right for you. Our easy-to-use flowchart can assist you with choosing the right course.
Decide what you want to do with your new CDL license.
• Do you want a class A or B license?
• Do you want to stay local?
• Do you want to go over the road?
• Do you have some previous experience?



First the basics:
| | | |
| --- | --- | --- |
| Type of CDL | Type of Truck | Type of Work |
| Class A: Big truck with a trailer. | 18 wheeler, city-delivery semi, construction | Local/long haul |
| Class B: Big truck/bus (no trailer) | Dump truck, trash truck, bus, delivery | Local |
| Class C: Small buses and vehicles transporting hazardous materials. | Delivery vans, shuttle buses, vehicles carrying hazmat. | Local |
To obtain one of the above CDL licenses, you must pass 3 tests:
DOT Physical (in Denver go here: Debra G. Stine, DC)
CDL Permit Written test (study here: Free Written Test Prep)
CDL Skills Test (more info here: CDL Skills Test info)



Unsure of which license you need? Use this flowchart: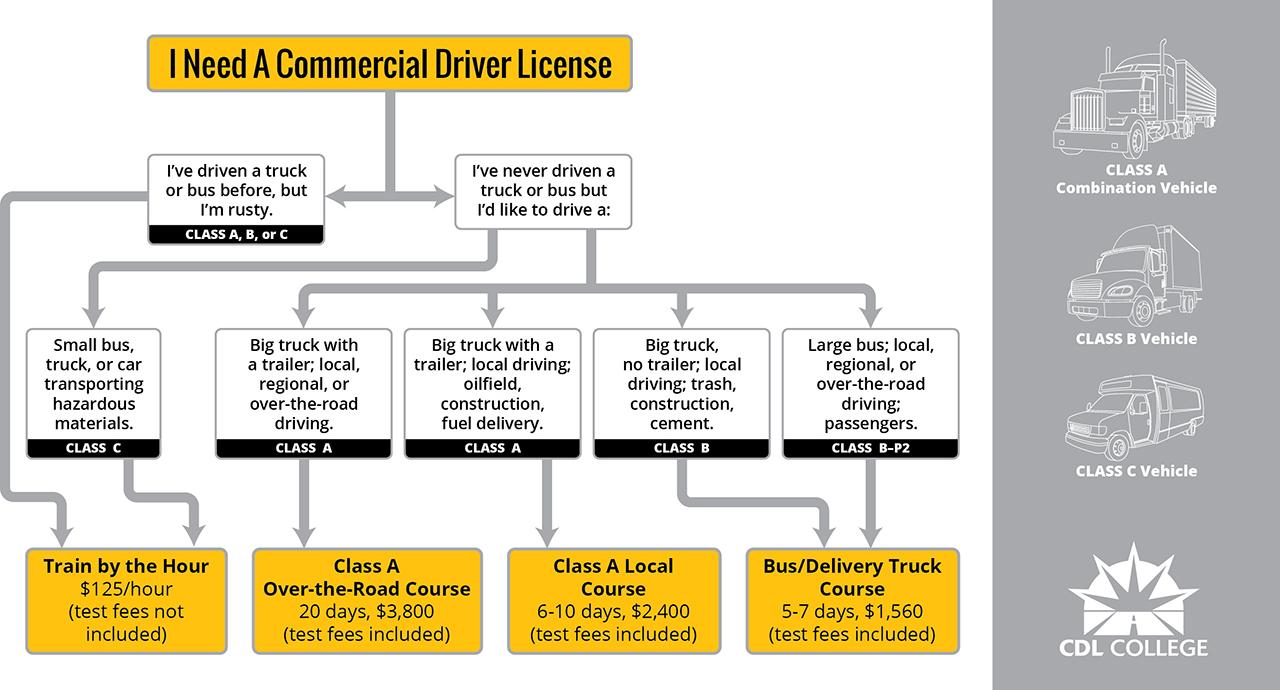 View our courses on the Courses and Fees page, or continue reading for more info.



Where can I find training and how much will it cost?
At CDL College, the type and amount of training depends on what type of license you want, what you want to do with it, and any previous experience you might have.
CDL College recommendations based on your answers.
If you want to stay local and drive a small city semi or a utility truck (definitely not an 18 wheeler), and have a little experience backing trailers but could use some practice, take our "By the Hour" Class A course. Pay for the number of hours you require, then take the CDL Skills Test when you're ready. The number of hours depends on your proficiency.
Our Price: $125 per hour for training (just you and an instructor in our City tractor-trailer), plus the cost of the test. Call us at 303-227-7841 to schedule an appointment.
You want to stay local AND drive the big trucks, learn how to shift a 10 speed, and turn a 53' trailer and parallel park a 70' vehicle. You want to work in the oil fields, or drive an end dump around town, but don't want to go long haul. Take our Local Driving Course, it's open enrollment, meaning you don't have to be here every day. We are open 7 days a week and evenings, too. We will teach you to drive the big truck and test you. When you pass, we give you a Training Certificate. The course includes classroom, computer lab, simulator and behind-the-wheel time. Finding the right job is as easy as visiting our job board. Gary's Job Board has over 1,400 jobs and continues to grow. This course does not fulfill the requirements of long haul companies.
Our Price: $2400.00 Come down and check us out anytime, no need to call.
You're not interested in the local stuff; you want to keep your options open, see the country, and make some good money. You may even want to buy a big truck and start your own business. If you're going long haul, our Class A Over-the-Raod course is a great way into the industry. We will get you pre-approved for a job, if need be. We work with several carriers, but aren't under contract with any of them so we will give you our honest opinion and let you choose. Or, you can find a job through garysjobborad.com for free. We created the website for our students. No contract, no future bills just take the course and start your new career. CDL College is the only open enrollment truck driving school in the United States, as far as we know. Keep your day job, take care of your kids, do what you need to do. Make your own training schedule at CDL College.
This course takes 20 days if you train full time (8 hours a day). If you can only train part-time, do the math. We are open 7 days a week and evenings, too. The course includes classroom, computer lab, simulator, and behind-the-wheel time. Upon graduation, you will receive a certificate.
Our price: $3800. Come down and check us out anytime, no need to call.