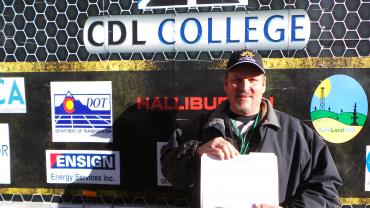 CDL training costs vary from school to school, but the average cost for a Class A Over the Road Course is roughly $3450. Some CDL schools charge more, and some charge less.
Truck driving schools in Colorado, like most everywhere else, offer different levels of CDL training. CDL Courses range from Class A Over the Road, to Class A Local, to Class B and even Class C. CDL training costs are not just limited to the Course price, however.
Other costs include a CDL Permit, a D.O.T. Medical Card (which requires a physical), and the cost to obtain the actual CDL at the DMV. The fee for the CDL Skills Test may not be included in the CDL training cost, so check with the truck driving school you plan on attending. Also, check the cost to test again, in case you fail your first test.
CDL College, a truck driving school in Colorado, offers Class A CDL training, Oilfield Driver training, Class B truck driver training, bus driver courses, Safeland certification, hourly CDL training, and Pre-Trip Inspection courses. We are the busiest driving school in Colorado, and the busiest testing facility in the state. Need a truck for your CDL Skills Test? We'll have CDL truck rentals!. We also operate an online job board for our students (and experienced drivers!) called Gary's Job Board.. The website posts new CDL truck driver jobs on a daily basis.
If you live in Colorado and are interested in truck driver training, check out CDL College. Here's a link to our Courses page. Don't have your D.O.T. Medical Card and CDL Permit yet? See our Obtain Your CDL page.