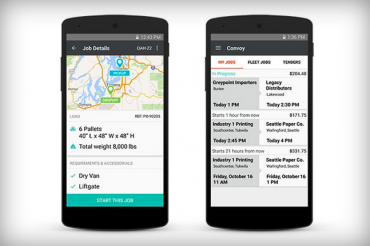 Seattle-based Convoy reported Tuesday that it had raised $2.5 million in seed funding from sources including Amazon, Salesforce, eBay, and Uber. The new online service and app will be used to pair shippers with available local carriers based on equipment, payload, capacity and distance.
Carriers will need to go through an approval process. Once approved, carriers can accept or decline a job based on the listed price. This eliminates the back-and-forth haggling process, which is often an issue in the trucking industry.
"I've never seen a larger market opportunity," said Hadi Partovi, an early investor in Facebook Inc., Airbnb Inc. and Dropbox Inc. who is investing in Convoy. There are a few hurdles, however. There is an inherent level of risk as agencies collaborate with shippers whom they haven't met before. On the other hand, some agencies are against or unaware of this new, 'cutting-edge' technology.
"Truckers are very reticent to adopt the technological options that are out there," said Jack Atkins, a transportation analyst with investment bank Stephens Inc. "There are a lot of moving pieces, and I don't see an app from a non-industry player—just given the complexities of the truckload market—really coming in and having a disruptive impact."
Convoy is trying to fill the "short-notice shipment" space, acting as a go-to on-demand provider. "There's a huge opportunity right now to change trucking," says CEO Dan Lewis. "We think of ourselves as regional and local trucking. For the work we're doing today, our drivers should be home that night. Sometimes they may be driving a full day and sometimes they may take a job that lasts an hour, but they can be at home at night."
Convoy's goals are not small: it's aiming to change an industry, in the same way Amazon Prime's default two-day delivery changed consumer expectations of online shopping.