Looking for a CDL School on the Western slope?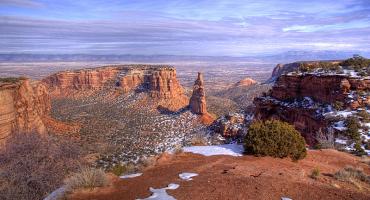 Our Grand Junction campus is located off I-70 and Highway 50. Open 6 days a week, call us directly at 970-812-0151. We're local. CDL College understands the need for high-quality, affordable CDL Training and Testing for the people of western Colorado and southern Utah. Why travel to Denver or Salt Lake City when you can train among the majestic mesas in Grand Junction?
Our system of online courses and flexible scheduling enables us to better serve the rural areas with minimal travel by the student! Tell us when you'd like to attend school and we'll train you quickly and efficiently so that you can get on the road to more money! Your time is important to us.
Live out of town?
Our Grand Junction campus is authorized to train and test persons from Colorado, Utah, Wyoming, and New Mexico.
Need a place to stay?
We've negotiated an amazing rate with a local hotel for those needing to stay a few days.
Getting your Commercial Driving License has never been easier.
We've paved the road to your success, now you just need to drive it! Call us today and tell us your training requirements. We'll work out a program and schedule that best fits you.
Need assistance finding a great CDL driving job? Try Gary's Job Board We created this website for our students. New jobs are posted daily.
How can we help?
2107 H Road
Grand Junction, CO 81505
970-812-0151