Start Your New Career Here!
Class A, Over the Road, Certificate Course $3165.00
Enroll Now
You receive:
8 Yard Training Blocks
8 Road Training Blocks
1 CDL Skills Test (retest if needed)
32 hours behind the wheel.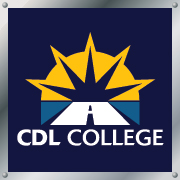 You think of this course when someone says "truck driving school". 18 wheels, rolling down the highway. Pulling a load for Voyager, Swift, or Werner. Those guys hire graduates of this course. This is the one they like.
It can be completed in 16-2 hour training blocks. You are not required to attend school every day. You schedule your own training blocks. The Over the Road course is 32 hours of behind-the-wheel training tracked by a computer.
You'll be a professional driver in no-time.
This course teaches safe driving principles, pre-trip inspections, backing maneuvers, and double-clutching a 10-speed tractor with a 53 foot trailer.
What happens first?
Before you begin training in a vehicle, we have some online courses for you to complete. These are theory courses that you may complete from home, or in our computer room. Afterwards, you'll train hands-on with our instructors.
Sign Up Below
You'll need to pick an appointment from the calendar so you can come down to meet our staff and fill out the enrollment forms.
You must pay the full amount in advance.
This course is heavily discounted from the Block Training System. Don't have it all once? Check out the Block Training System and pay-as-you-go. There are many options. We're not going to force you into this one.
Here's what you'll receive
*You'll receive: 8 Yard Training Blocks, 8 Road Training Blocks and 1 CDL Skills Test in our truck.