Steps to Purchasing and Scheduling Training Blocks
Choose an activity (Yard or Road).
Choose a training day.
Choose a training time.
Choose a payment method: voucher or credit card.
Attend your scheduled training block.
*Students enrolled in a program are issued vouchers. Block Training students and CDL Tests must use a credit card for online purchases. Other payment types should be handled in person.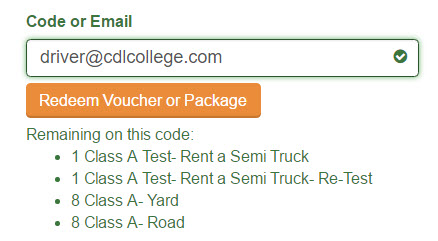 Verify your balance by entering your email address in the Redeem Voucher or Package box.
Student Tip: Your email address is your voucher code.
Tips to make life easier
The back button doesn't work on this type of page.
Refresh to start over.
No login is necessary.
No password is needed.
Contact us with any questions or concerns. We're fast.
*Want to enroll in a course? Go to the bottom of this page.