Driver Training: Night Operation
What You Will learn in This Unit
Your driver will learn to
Adjust speed, following distance, and gap selection to nighttime conditions.
Use high beams wherever legally permitted.
Dim headlights in accordance with State laws and to minimize glare for other drivers.
Respond safely to the glare of other vehicles by averting your eyes.
Use auxiliary lighting properly.
Your driver will learn
How the level of illumination affects your ability to see.
State laws on the use of headlights and other vehicle lights.
The symptoms and danger of fatigue.
The effects of glare on vision.
Factors that can reduce night vision.
How to judge speed, distances and separation at night.
What Will Happen in This Unit
The unit begins with a brief online lesson covering preparation and procedures for night driving. During exercises on the range, you will have an opportunity to practice preparation for night driving and to perform basic maneuvers in darkness prior to onroad night driving. During onstreet night operation, you will drive in a variety of nighttime conditions.
Night Operation
You are at greater risk when you drive at night. Drivers cannot see hazards as quickly as in daylight, so they have less time to respond.
Tip: These Videos Are Not Supported In Internet Explorer. Try Any Other Internet Browser; Chrome, Firefox, iphone, Android, Commodore, Anything Other Than Ie.
Night Operation: Basic Maneuvers
This lesson is intended to give you practice inspecting (coupling, and uncoupling) and driving a tractor-trailer in the dark. In the first exercise, you will practice coupling, inspecting and uncoupling in an un-illuminated area. In the second exercise, you will practice basic driving techniques including staying in a lane, following, crossing and meeting other vehicles, and dealing with glare. This exercise will take place either on the range or on the street in light traffic, In the third exercise, you will practice backing and parking in the dark.
Night Operation: Onstreet
This lesson is provided to give you the opportunity to practice basic driving procedures (shifting, braking, etc.) under a variety of nighttime conditions. In the first exercise you will be driving on suburban or rural highways with light traffic, wide lanes, uncontrolled intersections and road edges that are easy to see. In the second exercise you will be driving on two-lane rural rounds with narrower lanes, little or no street lighting and road edges that are harder to see. In the third exercise you will be driving in city traffic with parked cars on the side of the road, and a high level of background lighting from street lights, neon signs, oncoming cars, etc.
Students will take turns driving and observing. While you are an observer, you will keep track of the driver's performance using the Observer Checklist available to download or print.
Student Aids
To help you learn the material in this unit, the following items are available to download and print.
Night Operations Checklist--for use in street lesson
Explanation of Driver Errors on the Night Operations Checklist
Light High Beams- Failure to return the lights to high beam after passing or overtaking another vehicle.
Lights Dimming- Failure to dim headlights according to law meeting or overtaking another road user.
Speed Adjustment- Failure to reduce speed at night where required because of lowered visibility.
Following Distance- Failure to increase following distance to compensate for reduced nighttime visibility.
Gap Selection- Acceptance of an insufficient gap when entering or crossing traffic where it can be attributed to reduced nighttime visibility.
Download the Student Road Observation Checklist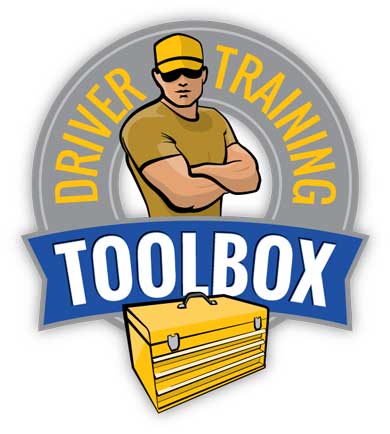 The course below is from the catalog. View the other courses in the online library.
This course is included in the Student Driver Training Toolbox. What is the Student Driver Training Toolbox? A box of tools to run your training program your way, with maximum efficiency. You can now track every aspect of student training electronically. Who can benefit from this system? Truck driving schools, delivery companies, bus lines, carriers, municipalities...any company that trains drivers.
Trucking Companies
Should use the service that we built for them: Safety as a Service, online driver training and recruiting. Same courses-different tools.