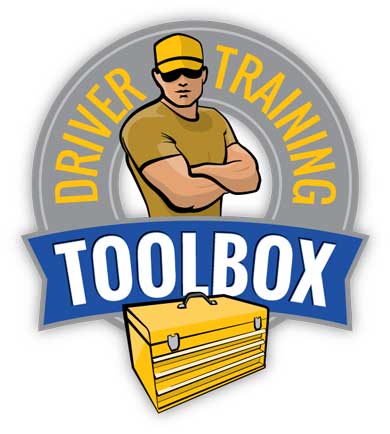 Driver Training: Coupling and Uncoupling a Tractor Trailer
Your driver will learn how to:
Align the tractor properly to connect with the trailer.
Secure the trailer to prevent it from moving while coupling and uncoupling.
Back the tractor properly to the trailer to prevent damage.
Check to make sure the coupling is secure.
Connect and disconnect electrical and air lines properly.
Raise and lower trailer landing gear properly.
Your driver will learn:
The procedures for proper coupling and uncoupling.
The hazards of improper coupling and uncoupling.
What Will Happen in This Unit:
Outline of Classroom Lesson
Overview of Coupling Procedures
Detailed Step-by-Step Procedures
Uncoupling Procedures
Summary of Safety Hazards
This course is included in the Student Driver Training Toolbox. What is the Student Driver Training Toolbox? A box of tools to run your training program your way, with maximum efficiency. You can now track every aspect of student training electronically. Who can benefit from this system? Truck driving schools, delivery companies, bus lines, carriers, municipalities...any company that trains drivers.
The course below is from the catalog. View the other courses in the online library.
Trucking Companies should use the service that we built for them:
Safety as a Service, online driver training and recruiting. Same courses-different tools.
This lesson consists of text and video. Read the text and watch the lessons below. Feel free to take a break and comeback. Your overview page will update after you complete all of the lessons.
Cdl Class A: Coupling
This section explains the coupling devices used to connect the air lines. We'll discuss cleaning the couplers and rubber seals before connecting. Why should you connect the glad hands at a 90 degree angle? What happens if you cross the air lines?
Tip: These Videos Are Not Supported In Internet Explorer. Try Any Other Internet Browser; Chrome, Firefox, iphone, Android, Commodore, Anything Other Than Ie.
Vehicle Systems: Coupling Systems
The primary function of the coupling system in a tractor-trailer is to connect the tractor to the trailer, the power to the payload. The two key components in the coupling system are the fifth wheel and the trailer kingpin. Coupling the tractor to the trailer through a single 2-inch kingpin is one of the most critical areas of tractor/semitrailer operation.
Tip: These Videos Are Not Supported In Internet Explorer. Try Any Other Internet Browser; Chrome, Firefox, iphone, Android, Commodore, Anything Other Than Ie.
Coupling Procedures Checklist
Inspect Fifth Wheel.
Check for damaged/missing parts and proper lubrication.
Make sure fifth wheel is tilted toward rear of tractor, jaws open and release handle in the automatic position.
Position Tractor Squarely in Front of Trailer; Never Drive under Trailer at an Angle.
Use left mirror to lineup outside edge of left rear outer dual wheel with outer edge of trailer.
Check alignment by sighting down side of trailer.
Make final check with both mirrors to make sure tractor-trailer is aligned.
Back Slowly until Jaws Just Touch Pickup Apron of Trailer.
Secure the Trailer.
Inspect the Area and Chock Front and Back of Left Trailer Wheels.
Secure any cargo against movement of tractor coupling.
If trailer is equipped with spring loaded brakes, it is not necessary to chock wheels.
Make Visual Check of Trailer Height.
Trailer should be slightly lower than fifth wheel.
Never go under trailer that is not supported by tractor.
Connect Air Lines to Trailer.
Check washers (rubber grommets) on all four glad hands to make sure they are not damaged and glad hands are properly seated to prevent air leaks.
Make sure air lines are safely supported so they won't be crushed or caught while tractor is backing under the trailer.
Make sure there is enough slack that glad hands won't become uncoupled.
Supply Air to Trailer.
Apply and release trailer brake to check for crossed lines.
Check system for signs of excessive air loss.
Apply Trailer Brakes to Prepare for Backing under Trailer.
Use trailer spring brakes if there are no trailer brakes.
If there are no trailer brake or spring brakes, make sure trailer wheels are firmly chocked against movement.
Back Slowly under Trailer until Fifth Wheel Engages Kingpin.
Be prepared for tractor to jump when it squats from trailer weight; if this happens, brake fast to keep air lines from being torn off.
Check Connection for Security by Pulling Tractor Gently Forward.
Repeat Step 28, Then Release Trailer Brake.
Secure Vehicle.
Visually Inspect Coupling.
Need to use flashlight and get under trailer.
Fifth wheel must be engaged on shank of kingpin and there should be no space between upper and lower fifth wheel.
Locking lever must be in "lock" position.
Safety catch must be in position over hocking lever; sometimes this is done manually or with a cotter pin.
Connect the Electrical Cable.
Don't force the connection if it doesn't fit.
If plug is not compatible with trailer connector, use a converter plug.
Make sure safety catch or latch is engaged after it plug is firmly seated.
Make sure air and electrical lines are properly secured/suspended.
Raise Landing Gear.
Check to make sure there is adequate clearance between rear of tractor frame and landing gear to accommodate arc of tractor frame on sharp turns (especially important with tandem axle tractor and/or sliding fifth wheel).
Landing gear must be fully raised and crank handle safely secured.
Remove Tractor Wheel Chocks and Stow in Safe Place.
Uncoupling Procedures
Position Vehicle.
Position tractor directly in front of trailer.
Make sure surface can support trailer; use trailer supports if necessary.
Apply the Trailer Brake.
Place Tractor Protection Valve in Emergency Position.
Secure Landing Gear.
Lower Landing Gear.
Empty trailer: lower to firm contact with surface.
Loaded trailer: turn crank in lower gear a few extra turns (enough to remote some weight from tractor suspension).
Disconnect Air Lines and Central Cable.
Secure lines against snagging or other damage.
Release Fifth Wheel Latch.
If handle will not move, release trailer brake and back tractor gentry to ease pressure.
If you cannot reach latch, use pull handle or hook.
Keep feet and legs clear of traitor wheels as tractor can be pushed forward.
Pull Tractor Partially Clear of Trailer.
Stop with tractor frame stubs under trailer to prevent trailer from falling to ground if landing gear collapses or sinks.
Secure Tractor.
Inspect Trailer Supports.
Use trailer safety jack under nose of trailer if necessary.
Pull Tractor Completely Clear of Trailer.
Close this window after the videos complete to receive credit for these lessons.
© CDL College LLC 2016