Driver Training: Visual Search
The unit will begin with a classroom lesson covering the importance of proper visual search and proper methods. Following a range exercise, you will practice search activities during on-road driving.
Your driver will learn to:
Maintain a minimum 12-second eye lead time.
Scan both sides of the road using quick glances to observe roadside activity and vehicles near you.
Check mirrors for hazards frequently, particularly before changing speed or direction.
Check your instrument panel frequently.
Look ahead as far as possible during turns and on curves.
Monitor overtaking traffic in order to be aware of vehicles behind you and in blind spots at the side of your vehicle.
Avoid diverting your attention from the path ahead of you for longer than a second at a time.
Adjust mirrors properly.
Maintain a straight line path whenever taking your eyes off the road ahead.
Check to the side before turning or changing lanes.
Your driver will learn:
About the differences between flat and convex mirrors and how to use them.
The importance of checking mirrors and checking to the sides and rear quickly in order to limit the time that your eyes are off the road ahead.
The relationship between speed and sight distance.
The search patterns appropriate for straight driving, changing speed or direction and entering or crossing traffic.
Visual Search
You will have more time to act if you see hazards before they become emergencies. In the example above, you might make a lane change or slow down to prevent a crash if the car suddenly cuts in front of you.
Tip: These Videos Are Not Supported In Internet Explorer. Try Any Other Internet Browser; Chrome, Firefox, iphone, Android, Commodore, Anything Other Than Ie.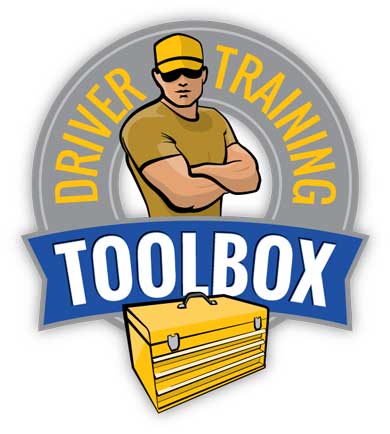 The course below is from the catalog. View the other courses in the online library.
This course is included in the Student Driver Training Toolbox. What is the Student Driver Training Toolbox? A box of tools to run your training program your way, with maximum efficiency. You can now track every aspect of student training electronically. Who can benefit from this system? Truck driving schools, delivery companies, bus lines, carriers, municipalities...any company that trains drivers.
Trucking Companies
Should use the service that we built for them: Safety as a Service, online driver training and recruiting. Same courses-different tools.